Elucidating the constitutional genetic basis of multiple primary tumours
---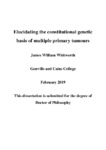 Files
Abstract
Cancer predisposition syndromes are responsible for a significant minority of neoplasm occurrences and beget opportunities to mitigate the associated risks with clinical intervention. They are caused by constitutional genetic variation affecting tumour suppressor genes or proto-oncogenes and recent improvements in sequencing technology have led to greater capability to detect more affected individuals through diagnostic testing.
Predisposition syndromes can be suggested by a variety of clinical indicators that can be used to prioritise cases for diagnostic assessment or research. These include the occurrence of multiple primary tumours (MPT) in the same individual, a phenomenon which forms the basis of this project and is observed more frequently in populations as cancer survivorship increases.
A series of MPT cases was assembled through recruitment from clinical genetics centres. These had previously been assessed without a molecular diagnosis being identified. A heterogenous tumour profile was observed, apparently influenced by population frequency and pattern of referral to cancer genetics services. Comparison with a population based series emphasised these influences. Constitutional DNA samples from participants were subject to whole genome sequencing (WGS) and panel based sequencing to elicit causative variants in known cancer predisposition genes (CPGs) or at novel loci.
Analysis of WGS data for variants affecting known CPGs showed that a pathogenic or likely pathogenic (P/LP) variant was detected in around 15% of previously undiagnosed cases. Just over 1% of these were structural variants, which would unlikely have been detected with nonWGS approaches. Over 40% of probands who harboured a P/LP variant had been diagnosed with a tumour that is not typical of P/LP variants in the relevant CPG, which may represent phenotypic expansion or coincidental tumours. Three individuals harboured two P/LP variants in two CPGs, a phenomenon which is reviewed in the context of cases previously reported in the literature. A clinical scoring system was devised and tested to predict which individuals had P/LP variants but this showed little potential for clinical utility. Panel data was interrogated for possible mosaic CPG variants but few were identified that were likely to be genuinely post-zygotic and causative.
Various case control based analyses to identify novel loci associated with cancer predisposition were undertaken using single nucleotide variant calls and/or structural variant calls from WGS data. These focused on a number of putative coding and non-coding regions including genes recurrently mutated in somatic cancer studies, known or putative gain of function CPGs, telomere related genes, enhancers/promoters, ultra-conserved elements and expression quantitative trait loci observed in normal and cancer tissues. The potential efficacy of this approach was demonstrated by the over-representation of variants affecting known CPGs (CHEK2, PALB2, MAX, NF1) in some phenotypic subgroups. However, there was little evidence for novel loci relevant to cancer predisposition.
Keywords
Cancer genetics
,
Multiple primary tumours
,
Genomic medicine
,
Whole genome sequencing
Qualification
Doctor of Philosophy (PhD)
Sponsorship
Cambridge Cancer Centre Clinical Research Training Fellowship