Judges' Gender and Judging in China
---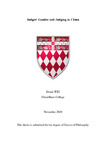 Files
Abstract
After women began entering the judiciary in appreciable numbers, scholars worldwide started asking whether their gender would influence their decision-making processes. Although empirical findings are mixed, the research literature reveals that judges' gender is a predictive factor in gender-related cases—especially those involving employment discrimination, sexual harassment, and reproductive rights. These findings not only advance feminists' aspirations that female judges can translate symbolic representation into substantive representation of women, but contribute to the long-standing observations about how judges of different backgrounds actually decide cases. This PhD dissertation follows this research tradition and examines the effect of gender in the process of judging within the context of Chinese criminal justice system.
Chapters two and three, which used quantitative research methods, examine whether female judges decide cases differently from their male colleagues, and whether the presence of a female judge on a three-member panel causes male judges to vote in favour of plaintiffs in rape cases. In chapter two, I discuss my analysis of 11,006 court judgments from 2016 to 2018 across 11 crime types in Shanghai, Beijing, and Guangzhou. The results revealed negligible differences between the sorts of decisions made by male and female district court judges. Nevertheless, the similarities in the decision to incarcerate can be explained by a harmonious 'Iron Triangle' relationship among the police, the procuratorate, and the court. The Sentencing Guidelines and the Adjudication Committees of the courts are mechanisms that align judicial behaviours in the same direction. The initial findings in chapter three, based on 6,100 judgements of rape cases from 2010 to 2018 in Shanghai, Beijing, and Guangzhou, also suggested that there is no 'panel effect'. However, when certain stimuli, such as the social network relationship between victims and offenders, are introduced, panels with different combinations of male and female judges exhibit different sentencing preferences: When a female judge decided the outcome of a case together with two male judges, the panel often issued a shorter sentence length, compared to the sentence length issued by an all-female panel.
Chapters four and five, which used qualitative research methods, uncover the behavioural differences at work between male and female judges. In chapter four, it is shown that female judges are accustomed to employ mediation as a preferred dispute resolution method when facilitating reconciliation between two parties and are more likely to seek civil compensation for victims. This study reveals that in the Chinese criminal justice system, behavioural differences between male and female judges exist in the process, as well as in the outcomes of judgments. Chapter five explores male and female judges' attitudes in criminal cases related to domestic violence. I found that senior male judges tended to minimise or excuse male offenders' assaults on their female partners in domestic violence cases, arguably because those male offenders were brought up in a masculine culture at an early age, or because they often experience work and family pressures at the same time, and those are feelings that some junior male judges can relate to. Female judges, on the other hand, tended to blame female victims for the improper behaviours that they engaged in with their husbands, or for failing to cut ties with their husbands quickly and resolutely. These negative attitudes from female judges towards female victims demonstrate the impossibility that the latter could fit the image of 'ideal victims'. This study demonstrates that both male and female judges, regardless of age differences, possess unconscious biases and prejudices during criminal trials for domestic violence cases. The findings in this PhD dissertation compel us to reflect on the benefits and drawbacks of pursuing 'gender differences in judging' put forward by feminist legal scholars.
Qualification
Doctor of Philosophy (PhD)