Mexico's federal open data and the possibilities of transparency
Authors
Brandim Howson, Joseph Sebastian
---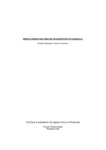 Files
Abstract
This study addresses the Mexican state's sudden emergence at the vanguard of global open data rankings and transparency indices. I examine this turn to open data-led transparency by focusing on the work of daterxs – those who take advantage of the state's data disclosures to expose corruption, scrutinise decision-making, and participate in governance.
To do so, I deploy what I term an aesthetic approach. Situated within an interpretivist methodology, I propose that aesthetic analysis requires the researcher enter an intimate and responsive relationship with the object(s) of study. Therefore, this research project has involved ten months of in-person and digital fieldwork amongst communities of daterxs in Mexico. I present the reader with rich materials assembled through participant observation and observant participation; perspectives gathered in over seventy interviews with open data users, cultural producers, civil society representatives, public officials and public servants; and archival records collected across cultural and public institutions in Mexico. Advancing Transparency Studies, I develop empirically detailed chapters formed around specific projects that take seriously the production and substance of open datasets.
I propose that the work of daterxs involved a conceptual narrowing of the possibilities of transparency. I determine that open data-led transparency activities are only able to momentarily articulate the fine details of what occurs in the recesses of the state apparatus, stopping far short of purging it of its shadows and masks. In contrast to the celebratory rhetoric of open data proponents, this complicates any simple alignment between open data and democratic advances. I explore this narrowing across three dimensions: scale, scope, and proximity. In developing this argument, I consider the forces these open data-led activities encounter and how daterxs subsequently respond to them. Enriching Mexicanist scholarship, I argue that this digital phenomenon advances our thinking in three key areas. First, the role of open data in the consolidation of centralising logics of power; second, extending our understanding of the impact of violence on digital activities; third, the renewing role open data outputs present for political culture.
Yet, despite this narrowing, I argue that open data-led transparency can remain politically significant. Expanding Critical Data Studies, I focus on the ways in which my fieldwork experiences underscored the multiple representational dimensions of open data. In acknowledging the openness of open data, I propose that Mexico's federal open data are also deployed in ways that do not necessarily halt or eliminate the shadows and masks of Mexico's state apparatus, but also in ways that attempt to "exceed" (Harcourt 2020) and do "justice" (Taussig 1999) to them. To do so, I reflect on speculative engagements with federal open data, and on creative deployments of data analysis tools in contemporary cultural projects. By using the work of daterxs to encourage a shift in the ambition of transparency activities, I conclude by arguing for a re-expansion of the political possibilities of open data-led transparency.
Keywords
Mexico
,
Transparency
,
Open data
Qualification
Doctor of Philosophy (PhD)
Sponsorship
Economic & Social Research Council (ESRC)