Design and delivery of a national pilot survey of capabilities
---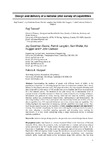 Authors
Waller, Sam
https://orcid.org/0000-0001-5999-3930
Ruggeri, Kai
https://orcid.org/0000-0002-8470-101X
Abstract
Understanding the numbers of people with different levels of ability in the population is important for informing design decisions for mainstream products, but a survey dataset for this purpose does not exist. This paper describes a key step towards obtaining such data. It describes a pilot survey of 362 people across England and Wales in preparation for a full national survey. Information was gathered on vision, hearing, hand and arm function, mobility, cognitive function, product use, psychological characteristics, anthropometrics and demographics. An interesting finding is that of those participants who reported any limitations in daily activities due to capability loss, 44% reported limitations due to loss of more than one capability. This finding highlights the importance of measuring multiple capabilities in a single survey. Top-level lessons learnt include: simplifying vision tests; reducing exclusion criteria for some of the tests; adopting a stratified sampling approach; and allocating more training for interviewers.
Journal Title
International Journal of Human Factors and Ergonomics
Sponsorship
This research was funded by the Engineering and Physical Sciences Research Council grant (Award Number: RG45089).