Rising COVID-19 related acute pulmonary emboli but falling national chronic thromboembolic pulmonary hypertension referrals from a large national dataset.
---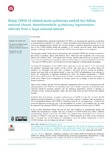 Authors
Newman, Joseph
https://orcid.org/0000-0001-5514-0754
Abstract
The average rate of new #CTEPH referrals has dropped by 32% in the UK during the pandemic, despite the high incidence of #COVID19 related pulmonary emboli. There have been no recorded new cases of CTEPH caused by COVID-19. A prospective study is underway. https://bit.ly/37msP2G.
Keywords
32 Biomedical and Clinical Sciences
,
3202 Clinical Sciences
,
Lung
Publisher
European Respiratory Society (ERS)
Collections