"The British Commonwealth and Empire may well be found the most convenient means of describing this unique association." (Mr. Winston Churchill) What do you think about this quotation?
---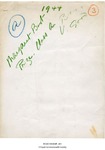 Description
Essay entered under category A; winner of Margaret Best Memorial prize
Essays were submitted by school children in three categories, according to their age. Category A for children aged sixteen and over, category B for those aged fourteen to sixteen, and category C for those aged less than fourteen years old. Each age group was assigned a different essay title.
Publisher
Cambridge University Library : Royal Commonwealth Society Collections