Politics of religious diversity: toleration, religious freedom and visibility of religion in public space
---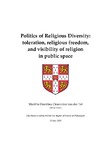 Files
Abstract
In France, Germany and the Netherlands, a mix of secularisation, privatisation of religion, and immigration concerns have increased social and political anxiety about the visibility of religion and religious diversity in public space. Visibility in public space is a measure of sociability: expressions of identity in public space attest to a public recognition as well as integration of this identity into cultural transcendences. This visibility is historically intertwined with genealogies of early modern toleration (ca 1500-1789). This thesis compares trajectories in the development of toleration and religious freedom in France, Germany, and the Netherlands, arguing that common frames of reference to toleration – truth, outward unity, public order, economic benefit and trust – have transformed into substrata of constitutionalism. Is it possible to fully disentangle toleration from the structures of constitutional law?
Toleration emerged in conjugation with the political imaginary of the corpus christianum, which relegated minorities primarily to private spaces, based on the assumption that one could separate spaces and personae. This thesis contends that the political imaginary of the nation replaced the imaginary of the corpus christianum, and that constitutionalisation was part of a new political order which constructed a different yet similar oneness of territory, people, and teleology. This nexus creates new categories of othering inside and outside the nation based on religion, race, and origin, or combinations of those.
These new categories of othering obscure that belonging is about more than integration and outward conformity alone, and that immigrants still face structural racism, even when they have fully "integrated". Moreover, the identification of common space with a shared political identity renders minorities vulnerable to political interpretations of public order in the context of the law. Parliamentary documentation and court cases on the full face veil, the burkini, and the hijab, demonstrate this vulnerability, in particular where religious otherness intersects with race and gender.
Advisors
Silvestri, Sara
Hussin, Iza
Keywords
toleration
,
religious freedom
,
religious symbols
,
constitutional theory
,
common good
,
public order
,
religious diversity
,
political imaginaries
,
nation state
Qualification
Doctor of Philosophy (PhD)
Sponsorship
Arts and Humanities Research Council Doctoral Training Programme Cambridge Trust Sint Geertruidsleen