Primary care management of risk of type 2 diabetes in women with a history of gestational diabetes
---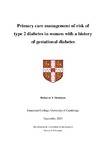 Files
Abstract
This thesis aims to inform strategies to improve care for mothers after a pregnancy affected by gestational diabetes (GD) in relation to risk of type 2 diabetes (T2D) after delivery. Through a systematic review (including 129 studies of 310,214 women with GD, Study 1) and study-level meta-regression, I highlighted that a third of women developed T2D within 15 years of GD a pregnancy. Progression was higher in non-White European populations compared to other populations, and in those with higher BMI at follow-up. These findings emphasised the need for both sustained follow-up after GD through screening, and interventions to reduce modifiable risk factors. Currently, screening for T2D is recommended at six to 13 weeks after a GD pregnancy, then subsequently at regular intervals. Consistent with other studies, I identified that 25.4% patients (n=556) did not undergo a postpartum test at a local hospital between 2014 and 2017 (Study 2). It is also known that many mothers find it challenging to maintain a healthy lifestyle after a GD pregnancy, and do not make changes to their diet or activity levels to reduce their risk. To explore reasons for this, I conducted two qualitative systematic reviews and developed 30 recommendations to promote screening attendance, healthy diet and physical activity based on the findings (Studies 3 and 4). I then elicited an evaluation of these recommendations from 20 mothers with previous GD (Study 5), in addition to their own ideas for improving postpartum support. Lifestyle advice amid a busy schedule and tips for sustaining changes, along with flexibility in screening appointments and invitations, were welcomed. I have highlighted that women with GD are an easily-identifiable group at high risk of T2D, and there is a need for interventions to manage this risk. I have provided evidence to support and inform such interventions during pregnancy and postpartum, which could include feasible adaptation to current practice, to improve care.
Advisors
Griffin, Simon
Usher-Smith, Juliet
Keywords
Primary care
,
Gestational diabetes
,
Type 2 diabetes
,
Prevention
Qualification
Doctor of Philosophy (PhD)
Sponsorship
This project is funded by the National Institute for Health Research (NIHR) School for Primary Care Research (SPCR; SPCR-S-S102). The views expressed are those of the author(s) and not necessarily those of the NIHR or the Department of Health and Social Care.