More than the sum of its parts: practitioner perspectives on the characteristics, affordances and challenges of all-through schools in the English state system.
---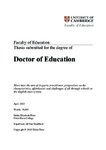 Files
Abstract
This research focuses on the small but growing number of English all-through state schools. In the wider school system hundreds of thousands of children transfer schools for their secondary education each year. The social challenges faced at transfer and the curricular and pedagogical disconnects between primary and secondary education are well documented in the literature. This thesis explores the opportunities provided by the all-through configuration to ease these difficulties and create a cohesive approach across all educational phases.
This is a sequential mixed methods study. At stage one a research questionnaire was sent to school leaders in all-through schools. Stage two consisted of field work in three case study schools, where data were gathered through interviews, focus groups and observations. Stage one uses quantitative data to create a contextual narrative about all-through schools. The larger qualitative dataset explores emergent themes in depth. The overall research philosophy is phenomenological, meaning that an emphasis is placed upon narrating research participants' lived experiences.
The study considered the blend of specialist and generalist teaching at all-through schools and found that all schools surveyed deployed some specialist teaching at KS2 and that half adopted some generalist practices at lower KS3, showing a blurring of the boundaries between primary and secondary practice. Drawing on the work of Etienne Wenger, primary and secondary practitioners are conceptualised in the thesis as separate communities of practice. The research found that all-through schools can counter the separatist mindsets of primary and secondary practitioners and that there was evidence of emergent boundary practice in curriculum development and pedagogy.
All-through pupils reported that their social transition to secondary education is more comfortable than that experienced by their non all-through peers. Practitioners valued the ability to build strong relationships with families over the years of a child's all-through schooling. However, all-through schools also face significant challenges: leaders perceived the pressures of performativity and accountability and the particular financial disadvantages faced by all-through schools as threats to establishing effective cross-phase working.
Keywords
All-through schools
,
Communities of practice
,
Cross-phase curriculum
,
KS2-KS3 Transition
,
Primary education
,
School configurations
,
School leadership
,
School Transfer
,
Secondary education
,
Specialist/generalist teaching
Qualification
Doctor of Philosophy (PhD)
Collections