World Oral Literature Project Workshop 2009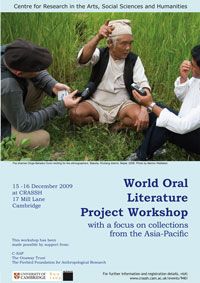 Permanent URI for this collection
This two-day workshop brought together established scholars, early career researchers and graduate students with indigenous researchers, museum curators, archivists and audio-visual experts to discuss strategies for collecting, recording, preserving and disseminating oral literatures and endangered narrative traditions. In view of the diversity of current research initiatives on the oral literatures of the Asia-Pacific, and the geographical strengths of Cambridge-based scholars, the workshop had a broad focus on this region. Specific sessions were held on the Himalayas (India and Nepal), High Asia (China, Mongolia and Tibet) and the Pacific (Vanuatu).
The workshop provided a collaborative environment for scholars to present, discuss and be exposed to new techniques and fieldwork methodologies. Topics included the ethical responsibilities of researchers, their engagements with local communities as partners, the place of western universities as archival repositories of living traditions and sites of interaction for indigenous communities, and the role of local digital archives and community cultural centres in knowledge transfer, teaching and research.
The workshop took place on Tuesday, 15 December to Wednesday, 16 December at CRASSH, University of Cambridge.