Pulp Fictions: The Role of Detachable Corporate Social Responsibility in Building Legitimacy for Uruguay's Largest Ever Foreign Investment.
---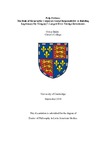 Files
Abstract
This thesis examines how practices of Corporate Social Responsibility (CSR) serve to legitimise Uruguay's largest ever foreign investment, the US$2.5-billion pulp mill constructed by the Finnish-Chilean firm Montes del Plata. Unusually, this investment prompted little social conflict, which runs counter to the community tensions frequently associated with large-scale infrastructure investments in Latin America. To explore this, the thesis takes an agency-oriented approach to the study of corporate-community relations. It offers fresh insights for critical management scholars and anthropologists of corporations into the techniques of collusion and co-optation in large-scale foreign direct investment (FDI) projects. Based on participant observation with Montes del Plata's community relations managers and their community interlocutors, conducted over separate periods during and after the mill's construction, the thesis examines the legitimising impulse of corporate citizenship, both as concept and practice. I show how the company seeks to incorporate itself as a morally-infused entity through ongoing interactions between its representative agents and external actors. I argue that the form of CSR that emerges is neither moral nor responsible, but its command over social relations nonetheless makes it a potent force for corporate capitalism's expansion.
The mill owner attempts to manage its social and political relations in such a way as to secure the proximity needed for legitimacy-building, while creating the requisite distance to reduce onerous moral obligations; a balance that I analyse using the concepts of detachment and depoliticisation. The thesis opens with a discussion of the politics of representation, demonstrating how the agents of Montes del Plata (the Corporation) shape the local political ecosystem through the recognition, or not, of its counterparties' claims to representativeness. Chapters 1 and 2 also explore the theory of personation, especially in the efforts by the Corporation's community managers to infuse the company with moral characteristics. Their struggles in doing so invite consideration of a pragmatic approach to legitimacy building through the calculated management of social relations. Chapters 3 and 4 further show how principles of detachment and depoliticisation frame the Corporation's approach to relationship management. Chapter 3 examines how participation and empowerment are utilised to depoliticise development goods and stage the Corporation's detachment from their delivery. Chapter 4 examines the detachment effects of the changes to the region's political economy sparked by the mill project, and how the mill owner depoliticises public expectations of job creation. The conclusion makes the case for a distinctive approach to FDI legitimation driven by detachment (and reattachment) and facilitated by depoliticisation, which I term 'detachable CSR'.
Keywords
Corporate Social Responsibility
,
Corporate-Community Relations
,
Foreign Direct Investment
Qualification
Doctor of Philosophy (PhD)