Detector Physics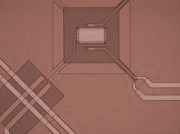 Permanent URI for this community
The Group runs a major facility for designing, manufacturing and testing a new generation of superconducting detectors for astrophysics and the applied sciences.
Most of the work relates to the development of large-format superconducting cameras for millimetre-wave, submillimetre-wave and far-infrared wavelengths. Some of the work relates to the development of time-resolved photon-counting spectroscopy and imaging for x-ray wavelengths.
The state-of-the-art facility, which is aimed at the development of large-scale integrated superconducting electronics, was established through a JIF award, and a major donation of equipment and intellectual property by Oxford Instruments Plc.
Note from the editors to depositors: Collections within this community can be set-up, structured and named according to your specific requirements. If you have suggestions, please contact us.
Browse
Communities in this Community
Collections in this Community