An Engineered Community Approach for Industrial Cultivation of Microalgae.
---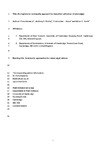 Abstract
Although no species lives in isolation in nature, efforts to grow organisms for use in biotechnology have generally focused on a single-species approach, particularly where a product is required at high purity. In such scenarios, preventing the establishment of contaminants requires considerable effort that is economically justified. However, for some applications in biotechnology where the focus is on lower-margin biofuel production, axenic culture is not necessary, provided yields of the desired strain are unaffected by contaminants. In this article, we review what is known about interspecific interactions of natural algal communities, the dynamics of which are likely to parallel contamination in industrial systems. Furthermore, we discuss the opportunities to improve both yields and the stability of cultures by growing algae in multi-species consortia.
Keywords
0605 Microbiology
,
Biotechnology
Journal Title
Ind Biotechnol (New Rochelle N Y)
Sponsorship
Biotechnology and Biological Sciences Research Council (BB/I013164/1)
Biotechnology and Biological Sciences Research Council (BB/I00680X/1)
European Commission (317184)
EK acknowledges funding from the FP7 DEMA project (Reference number 309086). ASR received funding from the People Programme (Marie Curie Actions) of the European Union's Seventh Framework Programme FP7/2007-2013/ under REA grant agreement n° 317184.